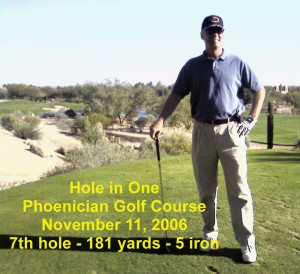 Dr. Dennis Clark
Hello, Fellow Golfers. The most important fact to know about me is that I am constantly looking for ways to play better golf. Golf is my hobby, my passion, and the one sport that I continue to play as I age. Basketball, softball, racquetball, and other joint-challenging activities have fallen by the wayside. Golf is the one sport that I can play until the day that I drop.
And it is the one sport that I can still get better at, because size, speed, and strength – all of which diminish over time – are not the end all and be all for playing better golf. Shoot – I didn't have my first hole in one until I had already been playing for 33 years. And my second (and most recent – see photo) several years later.
I just love the notion that on any given day I can hit a spectacular shot, play a hole perfectly from tee to cup, or record a great score for an entire round.
The Personal and Professional Stuff
Playing around the country and even in different countries offers wonderful opportunities to meet other golfers and find out about what they do for a living, about their families, and generally learn interesting details about other people. So, to get ahead a little, here is some of my own background for you, as a starter conversation in case we get to meet up in person and play some golf together someday.
Father of 3 (2 sons, 1 daughter), stepfather of 2 (1 stepson, 1 stepdaughter), grandfather of 4 (3 girls, 1 boy), retired after 30 years as a professor of plant biology at Arizona State University. I live in Tempe, AZ, where I spend most of my non-golfing time blogging, doing volunteer work with my local rotary club (Tempe South Rotary), and having fun with three Toastmasters clubs (Twilite Toastmasters, Blue Toastmasters, and Sports Talkers Toastmasters).
That ought to be enough for a conversation starter!
Play better golf,
Dennis