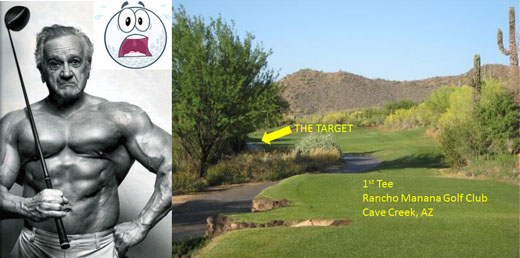 In this age of high-tech drivers that are big enough to double as flotation devices, how can you NOT hit as far as you used to? After all, every issue of
Golf Digest
tells you how to boom your drives like Dustin Johnson. Or some other guy (or gal!) who is younger, stronger, and more flexible than you are.
None of that matters, of course. Like my older buddy Steve says, you are going to lose distance as you age. Just deal with it.
Yesterday, though, playing with Steve at Rancho Manana Golf Club in Cave Creek, AZ, I discovered exactly what it takes to boom a 300-yarder at my age.
Yea, verily, in the face of less strength and flexibility than ever.
Here is how it went down.
Starting out on the first tee, Steve and another buddy, Bill, hit nice drives (sub-200 yards) that ended up in a small ditch right next to the cart path on the left.
Then St. Golfus (Scottish saint, of course) apparently swept in … i.e., I got some major-league luck. My drive, looking every bit like Steve's and Bill's, went a little bit more left. In so doing, it hit smack in the middle of the cart path that swings under a large mesquite tree next to the fairway. The drive was, therefore, in direct line with the green, which is out of view from a slight dogleg left. The 'concrete boost' sent my ball down a little incline, right at the green. The extra roll put the lie about 50 yards directly in front of the green, or about 300 yards from the tee.
VOILA! An old guy 300-yarder. Without any stinkin' advice from a magazine, either.
By the way, in case you are imagining your own such monster drive, here are some extra things to consider for getting a little shit-house-luck:
Keep it low (my drive went under that tree on the left – it never reached more than about 10 yards off the ground).
It is all about feelings, not scoring. (Translation: didn't get the birdie, but felt great.) After all, feelings are a guy thing, right?
If you are hydrating early, like I do (i.e., with beer), your odds are better earlier in the round. Don't know why.
Youth, strength, and flexibility are clearly overrated. Don't worry about losing them.
The rest of the round was more typical. The usual 'monster drive' more often turned out to be in the 220-yard range.
Or about the same distance that Bubba Watson faded his 6-iron (!) past the pin on the final hole at the Memorial Tournament this past Sunday. (Yes, a 6-iron. With a fade. Oh, and from the short rough. Off the green past the pin. Geez!)
Sigh.