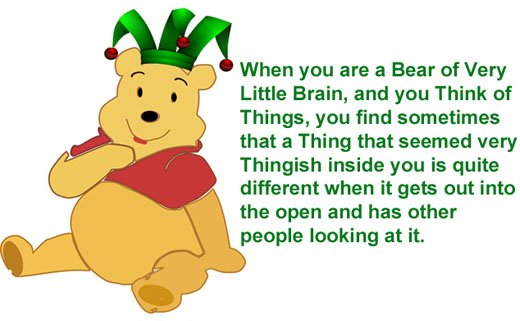 Seriously … you could not make this stuff up. Comedians are pulling their hair out just staying ahead of reality. Haven't you heard of the AIDS vaccine? If not, where have you been? In the immortal words of Gomer Pyle, USMC, "Surprise, surprise, surprise!"
Okay, don't feel bad if you feel as though you're out of the loop. Nobody in medicine has heard of such a vaccine, either. This news just spilled out of a guy's mouth who has the uncanny ability to speak without having his brain engaged. Or, he is just having a tough time being a real-life Pooh.
You can catch up on this breathtaking discovery in the video linked here (if it stays up very long):
https://thehill.com/homenews/administration/503042-trump-uses-aids-vaccine-as-proof-scientists-can-develop-covid-19
Fun thought: regardless of whether media promulgate "fake" news (aka, propaganda), all you really have to do is listen to someone speak. No reporting. No spin. Just actual words emerging into the light of day for all to hear.
The level of ignorance from this moron is breathtaking.