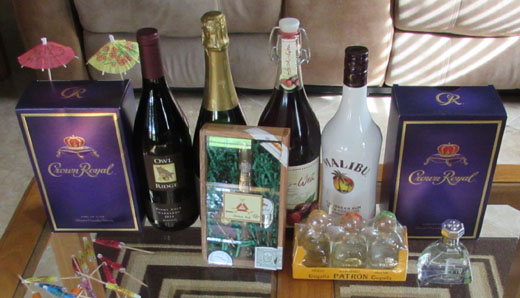 Is this the opposite of an intervention? If an intervention is designed to get folks off the sauce, then my friends and family apparently did just the opposite. Somehow – I have no idea how – those closest to me see me as a boozer. This is a selection of the liquid gifts that I received for my 70th birthday. Personally, I think these beverages have anti-aging effects. I am certain that they will boost my longevity. Or just preserve me better.
At least they will for as long as they last. A few weeks, maybe months, tops.
I am starting to think of Crown Royal as a breakfast drink.
And lunch.
And dinner.
Note to My Fellow WHOFers
WHOF = White-Haired Old Farts. Fantastic golfers in our own minds.
Our birdie shots (and aiming juice flasks, etc.) will now be stocked with the supplies that you see in the image above. Coconut rum and Crown Royal, as usual. The cute little bottles in the front are tequila. THAT should help with scoring better … either by playing better are just by 'creating' better numbers on the scorecard.
More likely the latter.
Let the lubricating begin!
Dennis