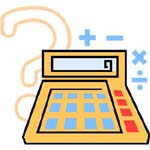 While searching for a website to calculate my golf handicap online for free, I came up with a bunch of annoying companies that just wanted me to register with their sites or, worse yet, sell me something or give me a 'free trial' and charge me later. This isn't rocket science, so I finally found just what I wanted.
.
.
.
.
Track Your Own Golf Handicap
The paid calculators seemed to be more of the 'tracker' type, whereby I could keep track of all kinds of things over time. Scores, putts, greens in regulation, drives on fairways…all kinds of detail that I wasn't looking for. What I really wanted was a simple FREE calculator where I could enter my scores and keep track of my own handicap as it gets better (ever the optimist!).
What I found is the Golf Handicap Calculator at CSGNetwork.com, so I thought I'd just let my blog visitors know about it in case others have not yet waded through all the junk online to find something free and easy to use.
The bonus is that, when you are just beginning to calculate your handicap, the above site offers a Single Round Golf Handicap Calculator, too. Normally a robust calculator requires a minimum of 5 rounds to provide an accurate handicap. You can use the single round calculator until you get in enough rounds for the full calculation.
Pretty cool, huh?
Going for better stats in 2012,
TopGolfNut
(Dennis)