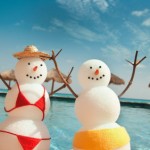 Arizona golf has a reputation for ideal conditions, in spite of the fact that it can be hot as Hades in summer and occasionally cold in the winter. Cold is a relative term, though. When it stays below 60 degrees, with scattered showers and even hail, it is cold by my standards.
Just got this photo back from my buddy, Don Ratliff – aka, the other Dr. D. He was the tournament photographer for our recent charity tournament with the A-Z Eagles. He took this photo right after we had a little hail, maybe for 3 or 4 minutes. It came between light showers.
Note that our foursome was bundled up pretty well, which is not a normal sight for Arizona golf, at least not around the Phoenix area. The tournament was held at the Orange Tree Resort – a very nice course.
That's me on the left, then my sweetheart Eve (aka, 'Two Gloves'), Eve's son Kyle Layne (in shorts!), and my son Will. We had a great score, as expected with a 4-ball scramble, although we didn't win, place, or show. I accidentally hit a good shot on one of the par 3s, though, and got a closest to the pin trophy for it. All in all, it was a blast.