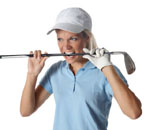 The PGA Tour shows us every week how to play slower than molasses in January. It may make sense for the pros to take their time, since they often have gobs of money on the line. Unfortunately, too many weekend golfers copy the slow play of the pros. Slow play is a plague on weekend golf.
Tony Korologos just posted this thoughtful piece on the issue of slow play, on his Hooked On Golf blog:
This first weekend of golf on the PGA Tour has already started some interesting commentary from the TV announcers, PGA Tour players and golf journalists on slow play. Slow play is the enemy without a doubt. The comments at the Hyundai Tournament of Champions regarding Johnathan Byrd's slow play (also known as "deliberate") were well noted. I then I saw a few great slow play related tweets from world #1 Luke Donald's twitter:
Sounds like slow play is already an issue the 1st week of the PGA Tour season and it's 2somes. Sort it out please…

It's not that hard, be ready when it's your turn. Slow play is killing our sport

Can't really blame the officials, not enough of them to govern. Responsibility lies with the players and their caddies

If u r second to putt, why not read your putt while the player 1 is reading his. 30 secs saved there = 35 mins saved for the round
It was very refreshing to read those rants from Luke. Bravo. Keep at it.
Yesterday I read a piece by Cam Cole in the sports section of National Post, " PGA's slow paces is killing golf. " Check it out. Some great points and great quotes are in there.
2.5 Hour Round
In the Monday final round at the Hyundai Tournament of Champions this past week, David Toms was first out of the gate. By himself he played 18 holes in 2.5 hours. It can be done.
Not Just The PGA Tour
One reason aside from the expense that golf is not a reasonable endeavor for many amateurs is the fact that it takes so long, especially in a down economy when those who are working are working more hours than ever. If amateurs could get in nine holes in 1.5 hours or 18 in 3 hours, the sport would have a lot more participation.
Speed it up people!
Foursome Dream Round
The greatest memory that I have of the enjoyment of snappy play is of a round that I played with 3 of my buddies at a local full-length course. We had nobody in front of us and finished in 3.5 hours without rushing. Just playing ready golf. We got lucky. On a normal weekend a round takes 4.5-5 hours or longer.
Golf courses put up those silly signs at certain points, which tell you how much elapsed time your round should be at that point. And they have rangers, or whatever they call them now, driving around harassing slow groups.
None of this helps to speed up play. Honestly, it is disheartening when I think about playing a round when I know I will have to wait on the group in front of me on every shot. Or, worse, play with someone in my own group who is too slow.
In my dreams, I am allowed to ban practice swings, stop players from lining up putts from more than one direction, disallow marking and resetting putts on every shot, and on and on. It is a pipe dream, I know. It does give me some mental satisfaction to think about having that kind of power, though, when I am waiting for a duffer ahead of me to take 4 practice swings then skull a 5-iron 30 yards.
My 2 cents for the PGA Tour,
TopGolfNut
(Dennis