Play shorter rounds and have more fun! No more waiting behind those 'Galapagos Foursomes'. To help golfers have more fun on the course and enhance their overall experience by playing from a set of tees best suited to their abilities, The PGA of America and the United States Golf Association have partnered to support "TEE IT FORWARD," a new national initiative to be proposed for golf facilities nationwide from July 5-17.
Use Golf Handicap, Play Faster, Enjoy Golf More
TEE IT FORWARD encourages all golfers to play the course at a length that is aligned with their average driving distance. Golfers can speed up play by utilizing tees that provide the greatest playability and enjoyment. The program will be promoted this week, at the 72nd Senior PGA Championship presented by KitchenAid, and at both the U.S. Open Championship in June and the U.S. Women's Open Championship in July.
TEE IT FORWARD
This chart is a guideline to help golfers align their average driving distance with the course length best suited to their abilities.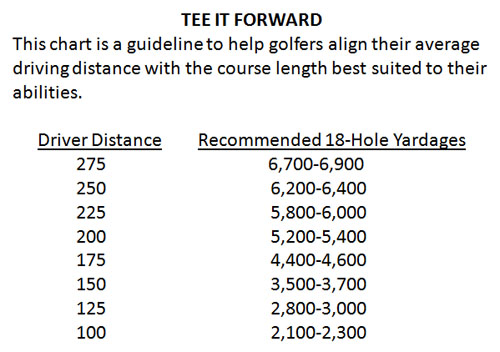 "Simply put, TEE IT FORWARD can make golf much more fun for millions of people," said PGA of America President Allen Wronowski. "We believe that by moving up to another set of tees, golfers will experience an exciting, new approach to the game that will produce more enjoyment and elevate their desire to come back and play even more golf."
Barney Adams, the founder of Adams Golf, provided the concept that led to TEE IT FORWARD. By playing from forward tees, amateur golfers have the chance to play the course at the same relative distance as a touring professional would over 18 holes. The playing field is leveled by giving golfers the opportunity to play from distances that are properly aligned with their abilities.
With many more golfers hitting approach shots with 6- and 7-irons instead of hybrids and long irons, their chances for enjoyment increase. Also, playing from forward tees should result in fewer overall shots, shorter distance traveled on each hole, and potentially, fewer lost balls.
"The passion that golfers have for our game has the potential to be enhanced by the TEE IT FORWARD initiative," said Jim Hyler, president of the United States Golf Association. "This is an innovation that we think will appeal to golfers of all skill levels because it gives them a new challenge that better aligns with their abilities. We hope that TEE IT FORWARD will be embraced by players and golf facilities across the country."
TEE IT FORWARD is not necessarily about creating a new set of tees — many facilities already have multiple tees in use every day. It is about changing the mindset of golfers in a positive way — encouraging people to consider setting aside playing from 6,500-6,700 yards and moving up to a length of 6,000-6,200 yards or moving from 6,000-6,200 yards to 5,700-5,800 yards.
The 6,700-yard course that many amateur golfers play today is proportionally equivalent to a PGA Tour player competing on a course measuring 8,100 yards — 700 yards or more longer than a typical PGA Tour layout.
Jack Nicklaus, who shares the record with Walter Hagen for most PGA Championship titles with five and also shares the U.S. Open record with four victories, is a proponent of TEE IT FORWARD.
"I love the game of golf but I will be the first to tell you that there are things about our game we need to improve," Nicklaus said. "Now The PGA of America and the USGA have come together to develop ways to that can make the game more attractive and more enjoyable. Tee It Forward is the first of many initiatives we have discussed together, and I think families around the country will enjoy alternate formats like this to make the game more fun.
"All of us deeply involved in the game constantly encourage golfers of all skill levels to play the proper tees, but too often golfers want to bite off as much of the golf course as they can. What ends up suffering is their scorecard and their overall enjoyment. This program should help stimulate people to play the proper tees and maximize the golf experience."
TEE IT FORWARD also coincides in July with The PGA of America's Family Golf Month, which has approximately 2,200 facilities already registered for that national initiative.
Too Good to Be True?
In my opinion slow golf is a plague on all humanity. I hope I am making myself clear on how I feel about slow golf. Too many amateurs seem to be taking the lead of Tour professionals and taking agonizingly long moments over every shot, as if gobs of money depended on it. I don't know how many times I've watched and waited for someone ahead of me take 3 or 4 practice swings, hover over the ball for way too long, then skull a shot a few yards. Then do it all over again on the next shot. Or line up a putt from all directions, then hit it 2 feet to the left and 12 feet past the hole.
At least the TEE IF FORWARD initiative will cut down some of the time it takes to play, don't you think?
Looking 'forward' to Tee It Forward,
TopGolfNut
(Dennis)