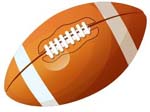 Fiesta Bowl honorary captains were Tiger Woods for Stanford University and Rickie Fowler for Oklahoma State University last night. Great shootout game. Stanford had about a third as many fans, although their band was louder.
It is shame to see a young player take the blame for losing a game, which the Stanford kicker did. I'd put at least much into the unimaginative play calling by the Stanford coaches in the fourth quarter and overtime. Stanford QB Andrew Luck had no opportunity to do his magic, what with the repeated handoffs for running plays that the OSU defense had finally figured out. On the other side, OSU stayed wide open all the way to the end, only opting to be conservative for lining up a chip shot field goal to win it in overtime, 41-38.
See Tiger Woods on Fiesta Bowl sidelines.
The game was a lot fun to watch. The biggest surprise for us golfers was that Rickie didn't wear orange like he does on Tour. Indeed, he had on a black shirt and and cap, which was perched backwards, of course.
Speaking of Rickie, here is an interesting short video of him making a blind hole in one:
Fun with football and golf,
TopGolfNut
(Dennis)