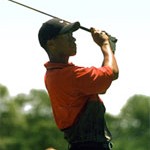 That young man Tiger Woods, who took the golf world by storm seemingly just yesterday, turns 36 today (December 30). The guy with bad knees (at least one, anyway), multiple golf swing changes, and 14 major titles, is all of a sudden on the downside of youth.
Will he or won't he break Jack's record of 18 majors? This is a never-ending question. Maybe that long uninterrupted line of stories asking it will finally cease if an when he makes it to the Champions Tour. We'll see.
He has a lot of excellent competition to overcome, young and mature players alike, if he is to win even one more major.
A Tiger Woods Fan,
TopGolfNut
(Dennis)