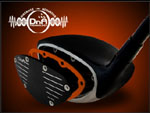 DnA Golf has outdone the big boys in developing the latest technology in golf gadgets for drivers. This company sells a club that you can modify to give more distance (even higher COR than USGA allows), different sound, and even a different logo, such as your own business. My own demo test had me hitting it consistently farther and straighter than any other brand in my life. Wow!
First off, the company site is DnAGolf.com, in case you want to check it out for yourself. They had a demo booth at the Raven Golf Club in Phoenix recently, so I got to test out their clubs. I had options of different faces, different shafts, and even different sounds. What a hoot that was. Lots of fun and great results. Fortunately for me, this company is right here in my home town. Fortunately for you, you can order their equipment online if you are adventurous enough to do that kind of thing.


DnA Golf Gadgets Factsheet
The company has a complete document in pdf format on everything you'd want to know about the technology and how to get the driver of your dreams. No kidding. The document is available here: DnA Golf Factsheet. I got it from their website and made it available here just as a convenience to my blog visitors.
The Video
They even put out a video on a news report about the company, which I have inserted below. It is short and sweet.
How Much Does It Cost?
The price varies, although nothing reaches the insane introductory-year prices of new clubs from Callaway or other big-name companies. You pay for options such as extra driver face plates, etc. It is all in the fact sheet, so take a look for yourself and see what you think. This driver is definitely on my gift list (Christmas, birthday, father's day, you name it) until I get one.
I'm sure that this baby will give me one more chance to maintain the illusion that I could have been on the tour. Or at least shoot my age before I turn 100!
All the best with high tech DnA Golf gadgets,
TopGolfNut
(Dennis)