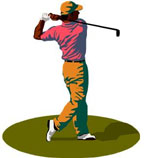 Golf swing tips from Nick Faldo make the driver swing look easy. This short video shows simple advice on the proper stance. Ah, to swing like Tour pro!
Have you ever seen, or been, a golfer with 'wild knees' during his golf swing? I know that I have been that guy way too often. Fortunately, it doesn't take much of an adjustment to make sure that you have the proper stance and the proper swing to get your knees working for you rather than against you.
See what I mean in this short video.
With easy golf swing tips,
TopGolfNut
(Dennis)