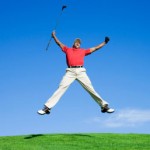 Balance is a key to any golf swing. It is a component of golf fitness, although it does not require strenuous exercise. Just a little practice as shown in this video by teaching pro Bobby Eldridge.
Bobby actually offers a number of videos that focus on golf fitness regarding a balanced swing. Everything from a short game around the green, all the way up through the irons, fairway metals, and the driver. Pulling, pushing, swinging over the top – all these problems go away with this little drill.
Golf Fitness – Balance Drill
Bobby sure makes it look easy, doesn't he? And he is a great guy, too.
Where Do You Waste the Most Shots?
Around the green, of course. Naturally, if you could hit the green in regulation every time, this would be a moot point. A high GIR is a dream come true. However, since this doesn't match my reality, I have to depend on short shots, from 100 yards on in, to cut down my strokes. Advice in this video is good for reducing a stroke a hole on a bad day, and maybe even 4-5 strokes on a good day.
Pointers for golf fitness and balance,
TopGolfNut
(Dennis)