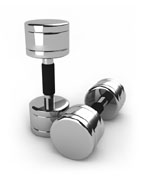 Golf fitness requires 4 keys to a good swing according to Rick Miller, America's top golf fitness trainer. Rick explains what these keys are in this short video. His advice makes sense.
Keys to Golf Fitness
Regardless of whether you are just starting out with getting fit for your golf fame, or looking to build more onto a good foundation, these 4 keys provide the basics.
Now What?
The good news is that building leg power and core strength are simpler than ever when you see what it takes according to recent scientific research. The Body by Science method (aka, Nautilus Method) is a great approach, and all the videos on this technique are free to the public here: Body by Science videos. I love YouTube!
For easy golf fitness,
TopGolfNut
(Dennis)